1. Hockey players are gentlemen.
No, I'm serious. Non-fans have the impression that hockey is, as Ilana from
Mommy Shorts
put it to me recently, "known for ugliness and low blows." As a hockey fan, I don't see that at all!
The truth is fighting is a part of the game, and it's done according to an unwritten code. Nobody's a victim here. These are two grown men who know what sport they're playing, and hockey fights are fully mutual (and closely refereed). The normal gameplay of hockey is intensely physical and fights are a natural extension of that.
This is a rough, physical game, a game coursing with full-on testosterone, and fights generally serve a purpose. Guys fight to avenge a foul, defend a wronged teammate, intimidate or rattle the other team, or just get their own team's blood pumping and the guys riled up. It takes
energy
to play this game for 60 minutes, maybe more than any other sport. The fights keep that energy going.
2. Hockey is exciting.
It's fast-paced, it's constant action, it never stops. Not like those stupid lumbering football players with their one. play. at. a. time. And don't even get me started on baseball. Basketball is ok in this regard but it's still no hockey.
3. Hockey is beautiful
. It is! Come on, girls. First of all, it's done in a nicely chilled room, so while they definitely sweat, it's not that hot baked-on stinky sweat that other sports cause. Plus, we love ice skating, right? It's elegant, it's graceful. Look at these guys on the ice. They fly. They're like figure skaters if figure skaters were burly men with five o'clock shadows and black eyes.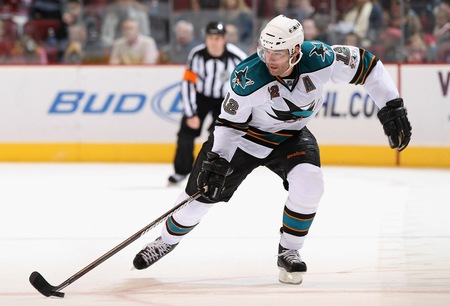 4. Hockey players love the game. I'm not much of a football, basketball, or baseball fan, but it seems like every time I turn around some big athlete is getting blasted by the press for his ego, his greed, his generally bad behavior. Sportswriters lament the players' loss of the "love of the game" when they start making their millions and gathering their entourages. It becomes a business, and they become celebrities.

You don't see that as much in hockey. I don't mean you don't see it at all, but it doesn't seem to be the focus as much as it is in other sports. There's a certain humility about these guys that seems to get lost in other athletes. When you watch a hockey game you have a real feeling that these guys are having fun. Yeah, they're doing a job, and yeah, most of them are being paid, well, a lot more than I am. But man do they enjoy every minute of it.
5. Hockey is sexy.
Ahem. These are men out there, ladies. Big, strong, rough and tough men. They carry around big sticks and knock each other around. They're fast and muscular and they often look like they haven't shaved all week. They get in fights and punch each other in the well-defined, sturdy jaw without ever losing their rakish grins. They're boyish and they're manly and if it were up to you to repopulate the earth with strong, healthy babies and you had to choose the best breeding stock out there, let's face it, you'd choose a hockey player.
Brent Burns. *sigh*